Welcome to Lawbadges.com. Looking for a badge? We feature quality, American-made police badges for the police officer, sheriff, deputy sheriff, constable or corrections officer. We make the badge right here in the USA. We make the badge that is guaranteed for LIFE. We make the badge that you'll be proud to wear.

Whether you need a shirt badge, hat badge or wallet badge, we have it. Custom badges, just for you or your department. Design right on-line by using our Visual badge designer that features our full-line of badges.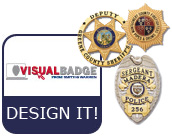 Select from over 500 badges. You design
and purchase it right on-line.